Watch Bigg Boss 9 Full Episode-57 7th December 2015 Online Video Download

Bigg Boss 9, Day 57: Housemates Karenge Sach Ka Saamna!
"Truth is something that always saves you from the trouble that you will face if you lie about it." Those are some pretty wise words. I would tell it to all the housemates if I could. Apparently, I can't.
But for this season the housemates faced 'Sach ki Kursi' again. Yes! The Polygraph test is back and this time the housemates who faced it were – Prince, Priya, Rochelle, Kawaljeet and Kishwer.

Bigg Boss 9 Double trouble Full Episode-57 Online Video 7th Dec 2015
These contestants will be asked a series of close-ended questions to which they will only answer in yes or no. They were asked questions about other housemates and even their partners.
And it might not come as a big surprise to you as you have seen a lot of twists so far.
But once you know what the questions were, your curiosity will sky-rocket.
Just a spoiler if may… Keith was asked if Rochelle has developed an ego. Now if he answers yes and it is true, it is a not-so-much-win win for him. If he says no it turns out to be false…well you get it it's a lost cause.
Watch Bigg Boss 9 Full Episodes Online | BB9 Day-57 Full Video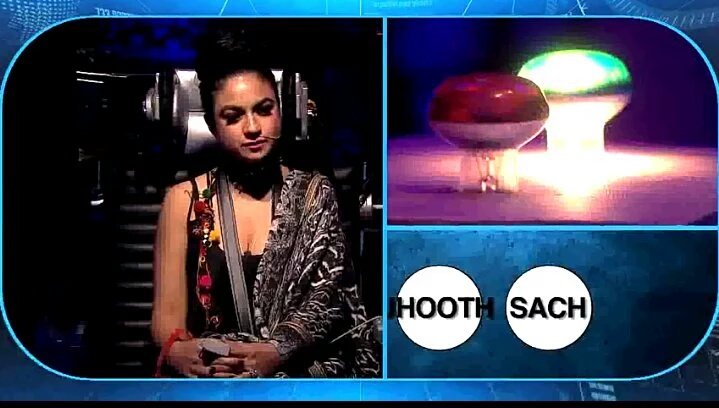 First Salman Khan calls Priya for Polygraph Test.
Salman Asked Priya – Kya Aaapko Lagta hai ki kishwer akeli iss game ko khelne ke kabil nahi hai?
Priya -Yes [Green Light]
Salman Asked Prince – Suyyash Iss ghar me jayda der tak survive nahi kar sakte?
Prince- Yes [Green Light]
Salman asked Rochelle -Kya Mandana ko esa lagta hai ki Duniya unhi se shuru hoti hai or Unhi par khatam hoti hai?
Rochelle- Yes [Green Light]
Salman asked Kishwer – Mandana ke Task complete karne se sabse jayda khatra Rochelle ko hota hai?
Kishwer- Yes[Green Light]
Salman Asked Keith -Rochelle me Ghamand aa gaya hai?
Keith – Yes [Green Light]
Watch Bigg Boss 9 Full Episode-57 7th December 2015 Online Video Download

Bigg Boss 9, Day 57: Commitment Control!
You all would definitely never forget the lust task between Rishabh and Prince. It was too hot to handle and glamorous and most definitely entertaining. So Bigg Boss decided to once again bring back that task.
But this time around it was Keith and Suyyash who faced the fire. Now both these men are committed and unfortunately (this time) both their counter parts are right here in the Bigg Boss house.
The motive here is to see who will resist the temptation of getting a hold on their heartbeats from this other hot diva. Both of them will have to control their 'emotions' to pass this test.
But to be fair not much men, committed or not, can hide their emotions in such instances. But those most men are not in the Bigg Boss house with their girlfriends. So there possibly is no escape.
Watch Bigg Boss 9 Full Episode-57 7th December 2015 Online Video Download

Bigg Boss 9, Day 57: Two more 'Wild Cards' in the house
So folks we're halfway through the show and boy this halfway journey has been quite a thriller. With four wild card entries so far, we have seen a lot of 'happenings' going on!
But do you realize what this means? This means that half of the journey is left and you will be getting a lot more of action and a hell lot of entertainment. And just to spice things up a bit we have two new wild card entries. Two lovely ladies will be entering the Bigg Boss house today and they will be …..*drum roll* Gizele Thakral and Nora Fatehi!
Watch Live online Bigg Boss 9 Full Episodes Day-57 7th December 2015
Gizele is a former Kingfisher Calendar girl and has also done shows like Survivors India and Welcome. She also bagged many titles during her modeling career.
On the other hand is Nora Fatehi, who has featured in blockbuster Bollywood movies like Baahubali and Kick. This Canada born model-actor has also done movies like Roar and Crazy Cukkad family.
In a pre-interview with Salman, she also said that she might show a little love to Prince or Rishabh in the house.
One thing's for sure that the oomph level of the house is certainly gonna rise up.
Read Here : Nora Fatehi Full Biography HOT SEXY Bikini Photos 
Click Here: Gizele Thakral Profile Biography AGE SEX HOT Leaked Photos 
[Day 57] Bigg Boss 9 Full Episode-57 Watch live On Colors tv Tasks on December 7th, 2015
Digangana Suryavanshi got eliminated today from Bigg Boss House.This is first time in Bigg Boss history that any contestants will be eliminated by votes of other housemates not the viewers.
Read Here :Salman Khan Upset ON Digangana Suryavanshi Eviction!!It should be Suyyash??